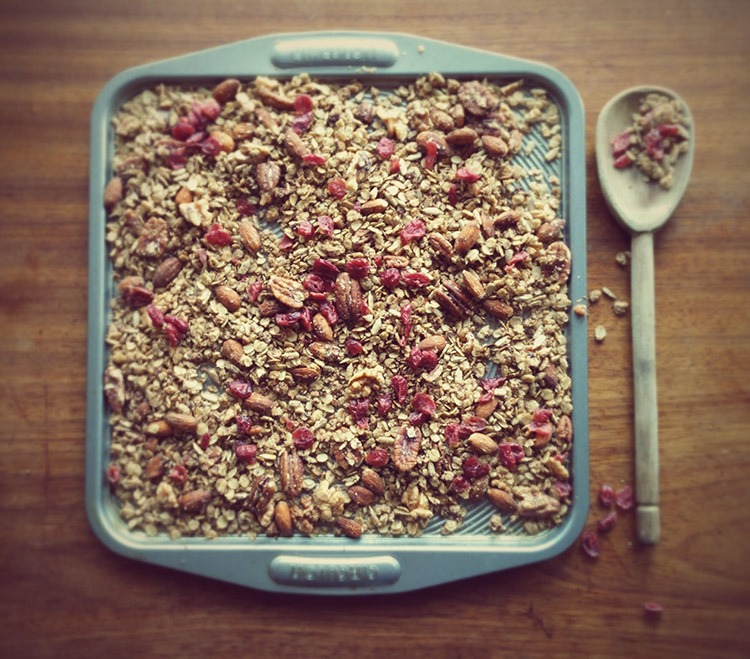 I'm a creature of habit when it comes to breakfast and love my daily muesli fix, a throw-together mix of oats, nuts, seeds and fruit. This chocolate granola is a slightly more indulgent version, but still combines the essential mix of nuts and seeds.
Feel free to chop and change the ingredients depending on personal taste. Start with a carb/grain base – here I've used a few handfuls of jumbo porridge oats (125g), a few handfuls of buckwheat flakes (125g) – or you could use all oats, quinoa flakes or millet flakes. Pour the grains in a large mixing bowl with 100g pecans, 150g almonds or hazelnuts and 50g walnuts, 100g sunflower seeds and 2 tsp ground cinnamon.
Heat 80g coconut or sunflower oil and when melted stir in 1 tsp vanilla extract and 8 tbsp maple syrup or honey. Pour into the mixing bowl, stir well then tip the granola mix onto two baking trays. Spread out into an even layer and bake for 20 minutes at 170°C.
Remove from the oven, stir in 40g desiccated coconut and 2 tbsp raw cacao or cocoa powder then return to the oven for another 10 minutes until light golden and crisp. Mix in 100g dried cherries and leave to cool and crisp up a bit more.
Serve with thick natural bio yogurt or milk and topped with your favourite fruit – strawberries, raspberries, nectarines or blueberries are always a winner.