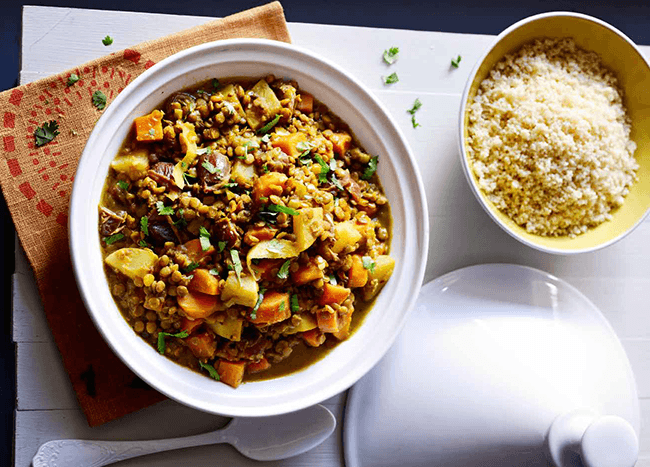 LENTIL, PRESERVED LEMON & DATE TAGINE
Many of my recipes come about through a need to use up a motley collection of ingredients in the fridge or cupboard and this is one of them. A packet of dried green lentils and some ready-to-eat dried dates had been lurking in the cupboard and were crying out to be used. I also picked up a recipe for super-quick preserved lemons from a friend and was eager to put it to use. Jars of preserved lemons are prohibitively expensive and this version is a fantastically easy and economic alternative.
Ingredients
Serves: 4
Preparation time: 20 minutes
Cooking time: 35 minutes
1 large onion, chopped

3 carrots, halved length-ways and cut into bite-sized chunks

2 turnips, cut into bite-sized chunks

3 garlic cloves, chopped

2 tsp coriander seeds

2 cinnamon sticks

2 tsp ground cumin

1 tsp turmeric powder

½ tsp ground ginger

½ tsp dried chilli flakes

140g/5oz/¾ cup green lentils

875ml/30fl oz/3½ cups hot vegetable stock

115g/4oz ready-to eat pitted dried dates, halved

1 tbsp finely chopped preserved lemons

sea salt and freshly ground black pepper
1
Heat the olive oil in a large casserole over a medium heat. Add the onion and cook for 5 minutes until softened. Turn the heat down slightly and add the carrots, turnips, garlic and coriander seeds and cook, part-covered, for another 5 minutes, stirring regularly, until the carrots have softened slightly.
2
Stir in the ground spices and chilli flakes then add the lentils. Pour in the stock, stir well and bring to the boil. Turn the heat to low, part-cover the pan and simmer for 15 minutes until the lentils are almost tender.
3
Stir in the dates and the preserved lemons and cook, covered, for 10 minutes or until the lentils are tender. Add a splash more stock or water, if the tagine needs it. Season with salt and pepper, scatter the coriander over and serve in bowls with couscous by the side.