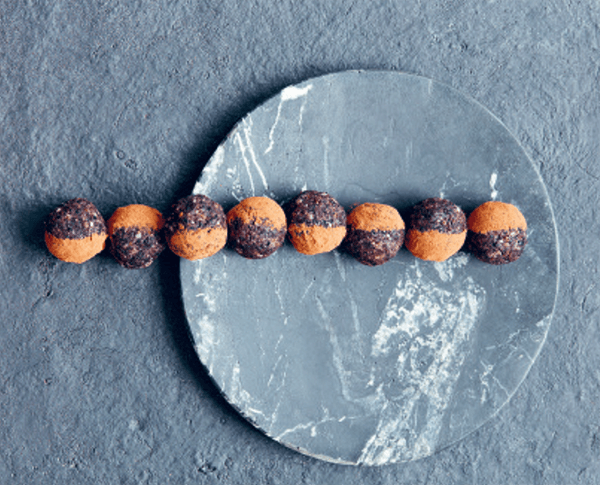 Acai berries (and the freeze-dried powder) have impressive nutritional properties and are good post-exercise, helping to boost energy levels, support the immune system and aid digestive health. As an added bonus, berries are great for the brain and have been found to help stave off age-related memory decline.
50 g/1¾ oz. cashew nuts

100 g/3½ oz. dried blueberries

50 g/1¾ oz. fresh blueberries

40 g/1½ oz. desiccated/dried unsweetened shredded coconut

1 tablespoon ground flaxseeds/ linseeds

1 tablespoon hulled hemp seeds

1 tablespoon acai powder

2 teaspoons raw cacao powder, for coating

MAKES 12
1
Put the cashews in a food processor and process until very finely chopped.
2
Add the dried and fresh blueberries, coconut and ground flaxseeds/linseeds and process again to a thick, smoothish paste, occasionally scraping down the mixture from the sides when needed. Stir in the hemp seeds and acai powder.
3
Put the cacao powder on a plate.
4
With damp hands, shape the blueberry mixture into 12 walnut-sized balls, then roll each one in the cacao powder until coated all over. Chill for 30 minutes to firm up. Store in the fridge in an airtight container for up to 1 week.