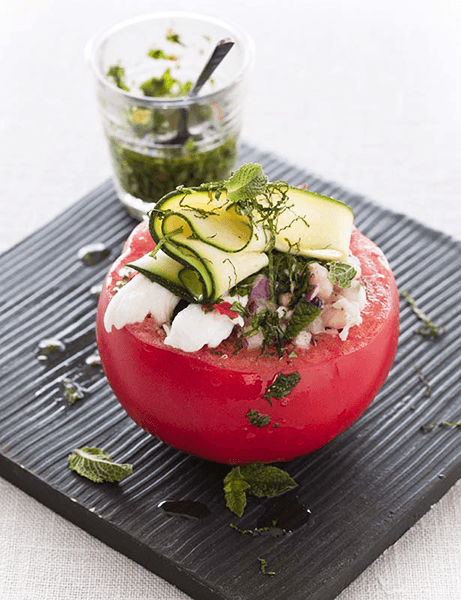 STUFFED TOMATOES WITH CRUSHED BEANS, MOZZARELLA & CHIMICHURRI
Chimichurri is an Argentinian herb and garlic sauce—somewhat like pesto with an edge. It adds a simple, vibrant bit of oomph to a dish. Burrata, often referred to as the rich cousin of mozzarella, is a great, creamy alternative cheese to try here. Serve with crusty bread for mopping up the juices.
4 small beefsteak tomatoes

400g/14oz. canned cannellini beans, drained and rinsed

2 tbsp. extra-virgin olive oil, plus extra for drizzling

juice of 1 lemon

1 small red onion, diced

70g/2½ oz pitted black olives, coarsely chopped

175g/6oz. mozzarella cheese, drained and torn into chunks

2 courgettes, trimmed

2 tbsp. chopped mint leaves

salt and freshly ground black pepper
1 large handful of flat-leaf parsley, leaves only, finely chopped

2 large garlic cloves, minced

125ml/4fl oz/½ cup olive oil, plus extra for drizzling

3 tbsp. sherry vinegar or red wine vinegar

2 tsp. dried oregano

1 tsp. ground cumin

½ tsp. dried chilli flakes

½ tsp. salt

4 tbsp. chopped cilantro leaves
1
Cut off the top of each tomato and scoop out and discard the core and seeds. Put the tomatoes upside down on a plate and set aside to drain.
2
To make the chimichurri, mix together all of the ingredients in a bowl, then set aside.
3
Put the beans in a small mixing bowl and crush roughly with the back of a fork or a potato masher. Stir in the olive oil, lemon juice, red onion, and olives, then season with salt and pepper.
4
Slice off a sliver from the bottom of each tomato to allow them to stand. Spoon the bean mixture into each tomato until filled nearly to the top. Divide the mozzarella over the top and spoon the chimichurri sauce over the cheese.
5
Using a mandolin or vegetable peeler, slice the zucchini into ribbons. Drizzle a little olive oil over them, then sprinkle with the mint. Season lightly with salt and pepper and serve either on top of or alongside the tomatoes.
---
Duncan Baird Publishers, 2011