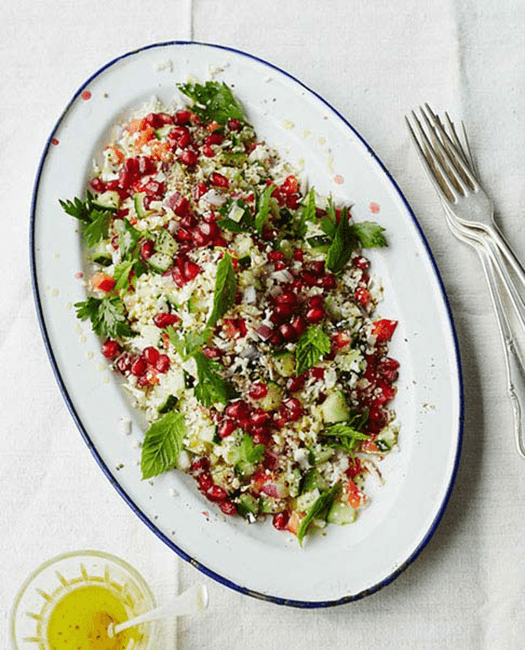 CAULIFLOWER COUSCOUS WITH POMEGRANATE
Cauliflower, when grated into fine grains, makes a surprisingly good and nutritious alternative to couscous, and is both low-carb and gluten-free. Pomegranate and chia seeds boost the nutritional status of this pretty and vibrant salad even further. Serve it as a light meal or as part of a mezze selection.
1 cauliflower, leaves removed

1 small red onion, diced

1 small cucumber, quartered lengthways, seeded and cut into bite-sized chunks

1 red pepper, seeded and cut into large dice

2 large handfuls chopped mint leaves

2 large handfuls chopped flat-leaf parsley leaves

seeds from ¼–½ pomegranate, depending on size

1 heaped tsp chia seeds

2 tsp za'atar
5 tbsp extra virgin olive oil

juice of 1 lemon

finely grated zest of ½ lemon

sea salt and freshly ground black pepper
1
Mix together all the ingredients for the dressing, season and set aside.
2
Grate the cauliflower florets into fine "grains" using the large holes of a box grater and discard the stalks (these can be used in another dish). Put the cauliflower into a shallow serving bowl and scatter the cucumber, red pepper, mint, parsley, pomegranate and chia seeds over.
3
Spoon the dressing over the salad and turn until it is coated and everything is combined. Serve sprinkled with za'atar.