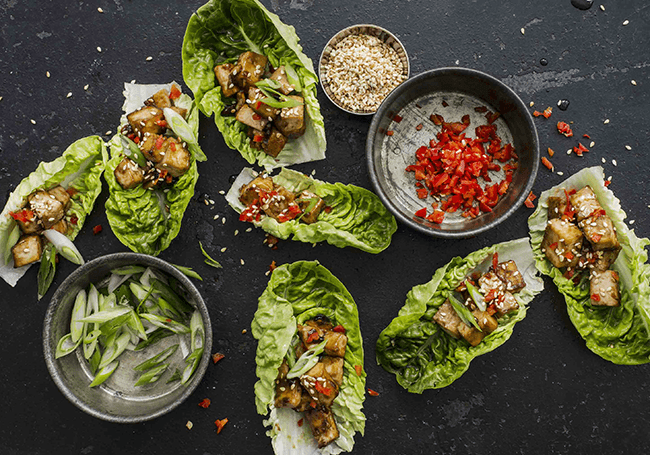 For golden, crisp tofu, it's vital to drain it well to remove any excess water, which would also dilute the intensity of the marinade. Instead of the spring onion/scallion, sesame and chilli topping, you could also serve the tofu topped with Easy Kimchi (Part Time Vegetarian page 165), or with noodles and stir-fried greens for a more substantial meal. Alternatively, if serving as a starter or party food, why not fill some of the lettuce parcels with the char sui duck variation.
Ingredients
Serves 4
Preparation time 20 minutes, plus marinating
Cooking time 25 minutes
6 tbsp char sui or hoisin sauce

2 tbsp sweet chilli sauce

1 tbsp soy sauce

2 tsp sesame oil

2.5cm/1in piece of fresh root ginger, peeled and finely chopped

400g/14oz block of tofu, drained well on paper towels, then cut into 1cm/½in cubes

1 tbsp sunflower oil

2 small Little Gem/Bibb lettuces, leaves separated (you need about 20 leaves)

2 spring onions/scallions, finely sliced diagonally

2 tbsp sesame seeds, toasted

1 red chilli, deseeded and finely chopped
1
Mix together the char sui sauce, sweet chilli sauce, soy sauce, sesame oil and ginger in a large, shallow dish. Add the tofu and gently turn to coat it in the marinade, then leave to marinate for at least 1 hour.
2
Preheat the oven to 200°C/400°F/Gas 6. Heat the sunflower oil on a large baking sheet and, when hot, add the tofu in a single layer. Roast for 25 minutes, turning once, until golden and slightly crisp. Meanwhile, warm any leftover marinade with a splash of water in a small pan.
3
Arrange the lettuce leaves on a large serving platter and divide the tofu among them, placing it inside the 'cups'. Spoon a little of the warm marinade over each one and scatter with the spring onions/scallions, sesame seeds and chilli.
»Char Sui Duck
Although char sui pork fillet is perhaps more usual, the marinade also works with duck. Score the skin of 2 large duck breasts and add to the marinade. Leave to marinate for 1 hour, occasionally spooning the marinade over the duck. Place the duck, skin-side down, in a cold, dry, non-stick frying pan over a medium heat for 7 minutes until golden, then turn over and brown for 1 minute. Regularly pour off any fat that accumulates in the pan.
Preheat the oven to 220°C/425°C/Gas 7, spoon more of the marinade over the duck and place, skin-side up, on a rack over a roasting pan. Roast for 15 minutes, or until the duck is cooked to your liking, then leave to rest for 5 minutes. Cut diagonally into slices and serve as instructed above in place of the tofu.