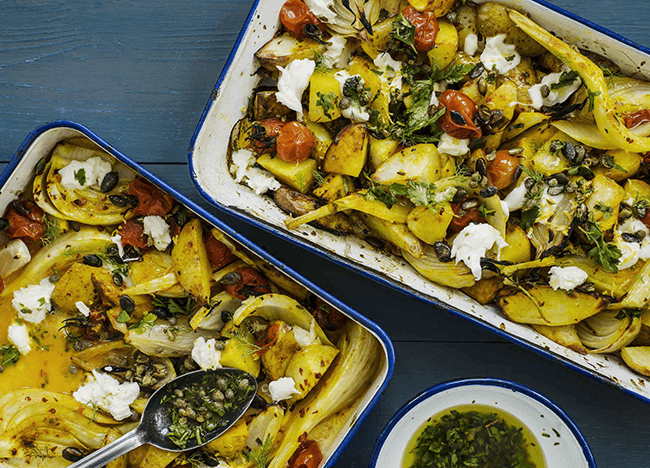 LEMON ROAST VEGETABLES WITH SCAMORZA
This is my kind of recipe – pretty much everything is mixed together and then just put in the oven and left to cook. Scamorza is best described as a type of smoked mozzarella, but it is interchangeable with regular mozzarella or any other type of 'melting' cheese. There is also the white fish variation, below, which can be cooked in the oven at the same time as the potatoes. The summery flavoured oil adds a vibrant lift to both the vegetarian and fish dishes.
Ingredients
Serves 4
Preparation time 20 minutes
Cooking time 40 minutes
2 tbsp extra virgin olive oil

finely grated zest and juice of 1 large lemon

1 tsp turmeric

1 tsp dried chilli/hot pepper flakes

800g/1lb 12oz white potatoes, such as Maris Piper, cut into bite-size chunks (no need to peel)

2 onions, halved and cut into wedges

250g/9oz cherry tomatoes

1 fennel bulb, quartered lengthways, fronds reserved

200g/7oz scamorza or mozzarella cheese, cut into chunks

4 tbsp pumpkin seeds, toasted

1 recipe quantity Caper and Herb Oil

sea salt and freshly ground black pepper
1
Preheat the oven to 220°C/425°F/Gas 7. Mix together the olive oil, the lemon zest and juice, the turmeric and chilli/hot pepper flakes in a large mixing bowl. Add the potatoes and turn until coated in the lemony spice mix. Divide the potatoes and any marinade between two large roasting pans, cover with foil and roast for 20 minutes.
2
Add the onions, tomatoes and fennel to the roasting pans, season with salt and pepper and turn until combined. Return to the oven and cook, uncovered, for a further 20 minutes, or until the potatoes are starting to crisp and the vegetables are tender.
3
Top the roasted potatoes and vegetables with the scamorza, pumpkin seeds and fennel fronds, then drizzle the caper and herb oil over before serving.
»White fish with caper and herb oil
Lightly oil 4 sheets of baking paper, each large enough to make a parcel. Place 4 thick fillets white fish, such as pollock, on top of the paper, season with salt and pepper, add a squeeze of lemon juice and a few fennel fronds. Gather up the sides of the paper and fold over at the top to make 4 sealed parcels.
Place the parcels on a baking sheet and roast on the bottom shelf of the oven, below the potatoes and vegetables, for 16–20 minutes, depending on the thickness of the fillets, until the fish flakes easily. Serve on top of the potato mixture in place of the scamorza and pumpkin seeds, with the fennel fronds and the caper and herb oil drizzled over the top.