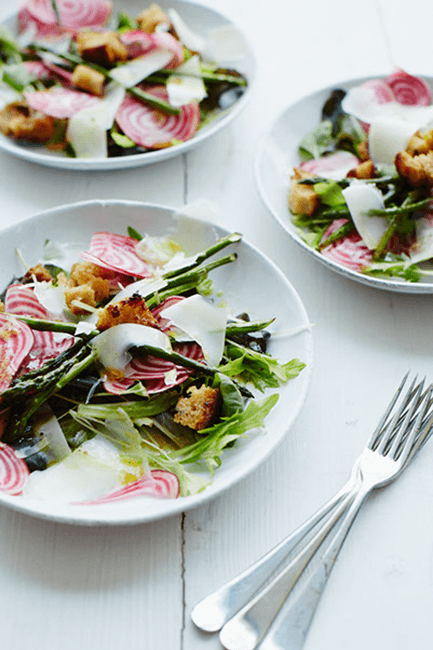 OSSAU IRATY, ROAST ASPARAGUS & CROUTON SALAD
Ossau iraty is a French semi-hard sheep's cheese with a nutty taste and creamy texture that complements the earthy beetroot. Use Parmesan, Gruyere or Emmental, if you prefer.
4 thick slices country-style bread, roughly torn into croutons

3 tbsp olive oil

400g asparagus spears, ends trimmed

150g mixed baby salad leaves

4 raw chiogga beetroot, cut into paper-thin round slices

100g ossau iraty cheese, sliced into shavings
6 tbsp extra virgin olive oil

juice of ½ small lemon

juice of ½ small orange

1 tsp Dijon mustard

1 garlic clove, peeled and halved

salt and freshly ground black pepper
1
Preheat the oven to 200°C. While the oven is heating, put all the ingredients for the dressing in a small jar, season and shake until combined. Leave to one side.
2
Put the croutons in a small food bag and add 2 tablespoons of the oil. Shake the bag until the croutons are coated in the oil. Spread the croutons out evenly in a large roasting tray and toast in the oven for 15 minutes, turning once, until golden and crisp.
3
Brush the remaining oil over the asparagus and season with salt and pepper. Arrange the asparagus on a separate roasting tray and roast, turning once, for 10 minutes until tender and just starting to colour.
4
Meanwhile, arrange the salad leaves on a large serving platter and top with the beetroot and asparagus, then spoon enough of the dressing over to coat and toss gently until combined. Scatter the ossau iraty and croutons over before serving.