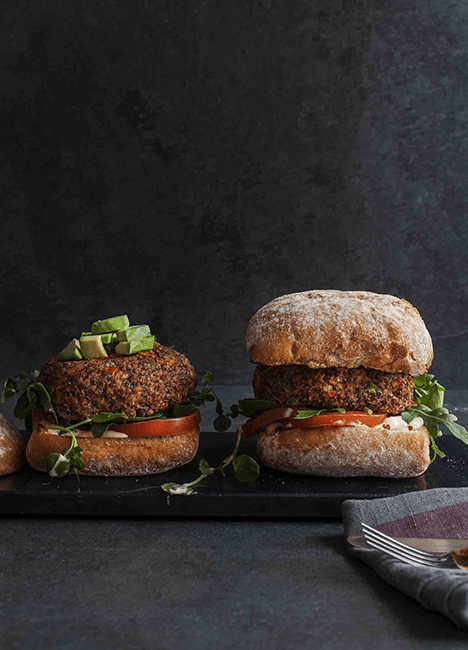 QUINOA & BORLOTTI BURGERS
Having struggled with the idea of including a veggie burger, mainly due to its old-school vegetarian connotations, this recipe won me over. Quinoa is usually cooked until just tender so it retains a little bite, but here the grain is cooked for slightly longer so it binds readily into a patty with the borlotti beans. The mixture makes four good-size burgers, but you could stretch it to make six, if need be.
Ingredients
Serves 4
Preparation time 15 minutes
Cooking time 30 minutes
90g/3¼oz/generous ½ cup red quinoa

400g/14oz can borlotti beans, drained

2 spring onions/scallions, finely chopped

5 sun-dried tomatoes, finely chopped

½ red pepper, deseeded and diced

1 tsp hot smoked paprika

1 tbsp soy sauce

2 tsp dried oregano

flour, for dusting

sunflower oil, for frying

sea salt and freshly ground black pepper

rocket/arugula, watercress and spinach salad, to serve
3 tbsp sweet chilli sauce

3 tbsp mayonnaise

4 ciabatta rolls or sesame seed buns, split in half and lightly toasted

3 tomatoes, sliced into rounds

2 handfuls of salad leaves

1 avocado, peeled, pitted and diced
1
Put the quinoa in a saucepan, cover with water and bring to the boil over a high heat. Turn the heat down and simmer for 20 minutes, covered, until very tender (it should be softer in texture than normal), then drain.
2
Meanwhile, mix together the sweet chilli sauce and mayonnaise.
3
Tip the cooked quinoa into a food processor with the borlotti beans and process to a coarse paste, leaving some of the beans almost whole. Spoon the mixture into a bowl and stir in the spring onions/scallions, sun-dried tomatoes, red pepper, smoked paprika, soy sauce and oregano. Season with salt and pepper to taste.
4
Quarter the mixture and shape each portion into a large burger with floured hands, then lightly dust each burger in flour. Heat enough oil to coat the base of a large non-stick frying pan over a medium heat and fry the burgers for 6–8 minutes, turning once, until golden and crisp. (Alternatively, brush with oil and cook on a baking sheet in the oven preheated to 190°C/375°F/Gas 5 for 25 minutes, turning once, until golden and crisp.)
5
To serve, spread each half of the toasted ciabatta rolls with the sweet chilli mayonnaise. Top one half of each roll with the tomato, salad leaves, burger and avocado and then the ciabatta lid. Serve with salad.