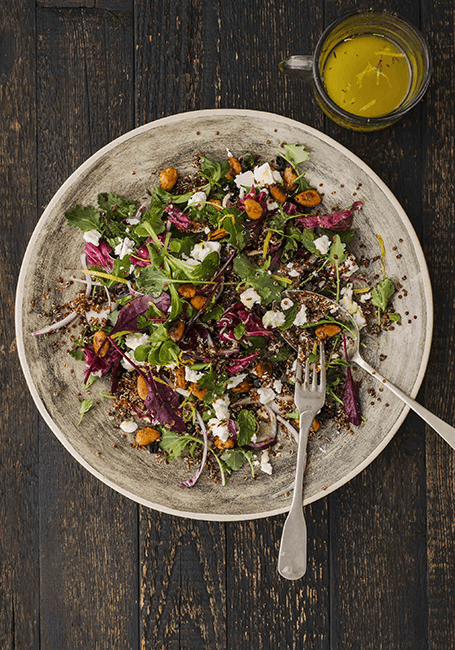 SOUR CHERRY, RED QUINOA & SPICED ALMOND SALAD
The success of this salad is all about balance – you don't want any single ingredient to dominate, instead it should ideally be a harmony of taste, texture and colour.
Ingredients
Serves 4
Preparation time › 20 minutes
plus 15 minutes soaking
Cooking time › 15 minutes
60g/2¼oz/scant ½ cup blanched almonds

½ tsp sea salt

2 tsp harissa paste

100g/3½oz/½ cup red quinoa (or white or black)

8 large handfuls of mixed red and green salad leaves

1 small red onion, halved and thinly sliced

2 large handfuls of mint leaves, torn

2 large handfuls of flat-leaf parsley leaves, torn

125g/4¼oz/scant 1 cup dried sour cherries or cranberries

200g/7oz firm goats' cheese, crumbled
finely grated zest and juice of 1 large lemon

4 tbsp extra virgin olive oil

½ tsp cumin seeds

sea salt and freshly ground black pepper
1
Soak the almonds in a bowl of water with the salt for 15 minutes until slightly softened. (This will help them take up the flavour of the harissa.) Drain and put them in a bowl with the harissa, turning to coat the nuts in the spice paste.
2
Preheat the oven to 180°C/350°F/Gas 4.
3
Put the quinoa in a saucepan and cover with water. Bring to the boil over a high heat, then turn the heat down and simmer for 12–15 minutes until tender. Drain and leave to one side.
4
Meanwhile, put the nuts on a baking sheet, spread out evenly and roast for 10 minutes, turning once, until golden. Transfer to a bowl and leave to cool.
5
Put the salad leaves into a large shallow serving bowl and top with the quinoa, red onion, herbs and sour cherries. Mix together the ingredients for the dressing and season with salt and pepper to taste. Spoon the dressing over the salad and toss until combined, then scatter the cheese and almonds over the top.