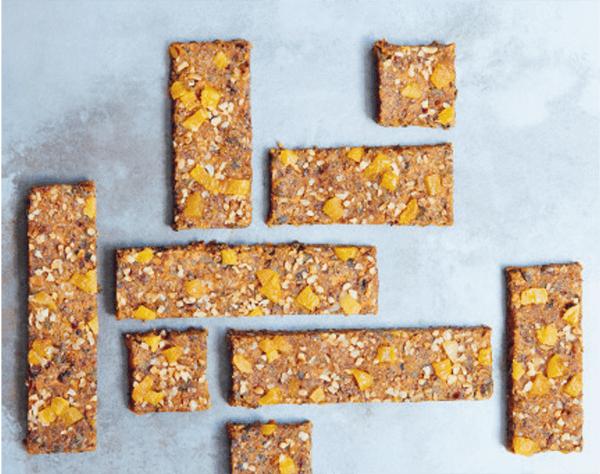 A healthful combination of dried fruits, oats, nuts, seeds and naturally sweet spices – and, yes, veg – these bars are perfect for sustaining energy levels and giving you a boost pre- or post-exercise. Particularly noteworthy is the bone protective capabilities of prunes. Research has found that eating prunes on a regular basis can both prevent and reverse bone loss.
115 g/4 oz. roasted hazelnuts, roughly chopped

40 g/1½ oz. jumbo rolled oats

125 g/4½ oz. pitted dried prunes, chopped

70 g/2½ oz. soft dried apricots, chopped

1 tablespoon chia seeds

2 teaspoons mixed/apple pie spice

1 carrot, about 50 g/1¾ oz., finely grated

2 tablespoons pumpkin seeds, roughly chopped

finely grated zest and freshly squeezed juice of 1 large unwaxed orange

baking pan, lined with clingfilm/ plastic wrap

MAKES 16
1
Put 100 g/3½ oz. of the hazelnuts in a food processor and blitz until finely chopped, then add the oats and process again until everything is very finely chopped.
2
Add the prunes and 50 g/1¾ oz. of the apricots and process to a thick, smooth-ish paste, occasionally scraping down the mixture from the sides when needed. Stir in the chia seeds, mixed/apple pie spice, carrot, pumpkin seeds, orange zest and orange juice.
3
Spoon the fruit mixture into the lined baking pan and spread out with the back of a dampened spoon until it is about 1 cm/½ inch thick.
4
Cut the remaining apricots into small pieces and scatter over the top. Repeat with the rest of the hazelnuts, pressing the nuts and apricots down slightly to help them stick to the fruit mixture. Chill for 30 minutes to firm up, then cut into 16 bars, each 2 cm/¾ inch wide. Store in the fridge in an airtight container for up to 2 weeks.