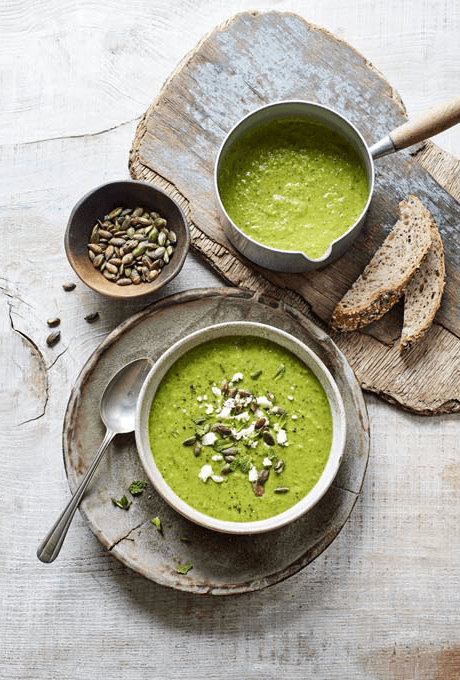 Visually, fresh green vegetables do not respond well to slow cooking, losing their colour and turning a bit murky looking. Nutritionally, this is also probably the case. Rather than lose out on the impressive health benefits of green veg, the peas, spring onions/scallions and spinach are added at the last minute and are cooked just long enough to soften but still retain their colour and nutritional value. Make sure the frozen peas are properly defrosted before adding them to the soup so they need the minimum amount of cooking. For a lower fat version, leave out the ghee or coconut oil, but I like the richness they add to the soup.
Ingredients
Serves 4
Low: 8–9 hours, plus 20 minutes on high
High: 71/2–81/2 hours
150 g/51/2 oz./¾ cup dried split peas, soaked overnight

1 tbsp ghee or coconut oil

1 large onion, finely chopped

1 large carrot, diced

1 celery stick, thinly sliced

2 bay leaves

1 litre/13/4 pints/4 cups hot vegetable stock

350 g/12 oz./3 cups frozen peas, defrosted and drained well

5 spring onions/scallions, thinly sliced

50 g/13/4 oz./2 cups baby spinach leaves, very finely chopped

2 handfuls chopped mint leaves

sea salt and cracked black pepper

55 g/2 oz. feta cheese, crumbled, and toasted pumpkin seeds, to serve
1
Drain and rinse the soaked peas and tip them into a large saucepan. Cover with plenty of cold water and bring to the boil. Let the beans boil rapidly for 10 minutes, skimming any froth that rises to the surface, then turn the heat down and simmer for another 10 minutes. Drain the peas, discarding the cooking water, and tip them into the slow cooker pot.
2
Add the ghee or coconut oil, onion, carrot, celery, bay leaves and vegetable stock to the pot. Stir well until combined then cover and cook on low for 8–9 hours, or high for 7–8 hours, until the split peas are tender.
3
Turn the slow cooker to high, if cooking on low. Add the defrosted peas, spring onions/scallions and half the mint. Cover and cook for 20 minutes, then season and stir in the spinach – there's no need to cook it as the finely chopped leaves will soften in the heat of the soup.
4
Using a stick blender or a food processor, blend the soup until smooth and thick. Check the seasoning, adding more salt and pepper, if needed, but taking into account the feta is quite salty.
5
Ladle the soup into serving bowls and top with crumbled feta, pumpkin seeds and the remaining chopped mint.
---
Ryland Peters & Small 2017