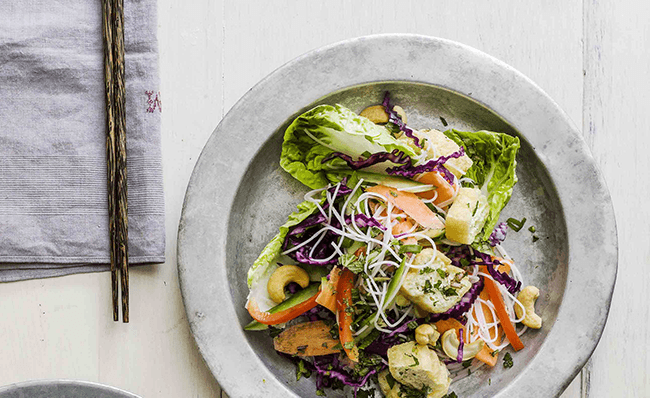 VIETNAMESE CRISPY TOFU & CASHEW SALAD
Sweet, sour, hot, spicy and salty, this vibrant salad includes all five elements that are fundamental to Vietnamese cooking. Vital, too, is the contrast in textures, from the crunch of the cashews to the crisp vegetables and soft, yielding rice noodles. Find crisp fried tofu in Asian grocers or cook your own following the instructions below. Alternatively, try the soy-glazed chicken option, if you are serving to non-vegetarians.
Ingredients
Serves 4
Preparation time 20 minutes
Cooking time 7 minutes
125g/4½oz rice vermicelli noodles

1 recipe quantity Vietnamese Ginger Chilli Dressing

2 carrots, halved crossways and thinly sliced into strips

1 small cucumber, quartered lengthways, deseeded, and thinly sliced into strips

2 handfuls of shredded red cabbage

1 red pepper, deseeded and thinly sliced

3 spring onions/scallions, thinly sliced

2 handfuls of chopped mint leaves

2 handfuls of torn basil leaves

250g/9oz crisp fried tofu pieces, halved if large

1 Little Gem/Bibb lettuce, leaves separated

70g/2½oz/heaped ½ cup salted roasted cashew nuts
1
Put the noodles in a large mixing bowl, cover with just boiled water from a kettle and stir, then cover with a plate and leave to stand for 3 minutes, or until tender. Drain and refresh under cold running water, drain again and put in a large serving bowl. Spoon the dressing over and toss until thoroughly combined.
2
Add the carrots, cucumber, cabbage, pepper, spring onions/scallions and half the herbs to the bowl containing the noodles and toss until combined.
3
Heat a large dry, non-stick frying pan over a medium heat and cook the tofu for 2–4 minutes, turning regularly, until warmed through and crisped up. (If you can't find crisp fried tofu, fry 250g/9oz cubed tofu in 3 tablespoons sunflower oil, turning occasionally, until golden and crisp. Drain on paper towels.)
4
Arrange the lettuce leaves on a large serving plate and top with the noodle salad, remaining herbs, cashews and crisp tofu before serving.
»Chicken and peanut Vietnamese salad
This is a perfect way to use up cooked leftover roast meat or, if you are starting from scratch, cut 400g/14oz skinless, boneless chicken breasts or pork fillet into thin strips. Fry in 1 tbsp sunflower oil for 5 minutes, or until cooked through. Add 1 tbsp light soy sauce and cook briefly until golden. When making the dressing, replace 1 tbsp rice vinegar with 1 tbsp fish sauce. Serve sprinkled with 70g/2½oz/¾ cup chopped salted peanuts in place of the cashews.
Vietnamese Ginger Chilli Dressing
• 5 tbsp rice wine vinegar
• 4 tsp caster/granulated sugar
• ½ tsp ground or finely chopped fresh root ginger
• 1 red chilli, deseeded and diced