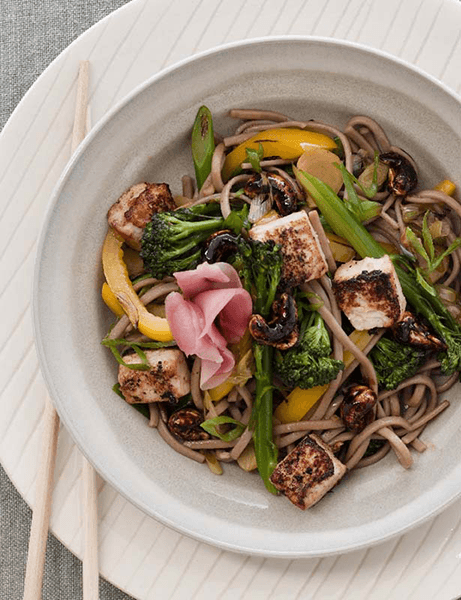 YAKISOBA WITH TOFU AND GOLDEN CASHEWS
Yakisoba simply means stir-fried noodles and the secret to a successful stir-fry is preparation – make sure you have all the flavourings measured and veg prepared before you start to cook. Tamari is a Japanese soy sauce, while kecap manis is a thick and slightly sweet Indonesian soy.
2 tbsp. tamari soy sauce

1 tbsp. sesame oil

6 tbsp. teriyaki sauce

350g/12oz. tofu, patted dry and cut into cubes

4 tbsp. cashews

1 tbsp. kecap manis

350g/12oz. soba noodles

250g/9oz. long-stem broccoli, ends trimmed

3 tbsp. sunflower oil

1 large yellow pepper, seeded and cut into strips

2 garlic cloves, minced

2.5cm/1in. piece of ginger root, peeled and thinly sliced

8 spring onions, sliced diagonally

2 tbsp. pink pickled ginger, to serve freshly ground black pepper
1
In a shallow bowl, mix together the tamari, sesame oil, and teriyaki sauce. Add the tofu and turn to coat, then let marinate at least 1 hour.
2
Toast the cashews in a dry frying pan over a medium heat 5 minutes, stirring occasionally, until golden. Transfer to a bowl, add the kecap manis, and stir to coat the nuts. Return the nuts to the frying pan and cook 2 minutes, turning once, until golden and glossy. Watch carefully because they can easily burn. Transfer the nuts to a baking sheet and spread them out to cool.
3
Cook the soba noodles according to the package instructions, adding the broccoli 2 minutes before the end of the cooking time. Drain and refresh under cold running water.
4
Heat a large wok over a medium heat. Add 2 tablespoons of the sunflower oil and fry the tofu, reserving the marinade, 8–10 minutes, turning occasionally, until golden. Remove from the wok and set aside, covered.
5
Wipe the wok with paper towel, then heat the remaining sunflower oil over a medium heat. Add the yellow pepper, garlic, ginger, and the white part of the spring onions and stir well. Turn the heat down to medium-low and add the broccoli, noodles, and reserved marinade. Stir until combined and warmed through, then season with pepper. Divide into four large shallow bowls. Top with the nuts, the green part of the spring onions, and the pickled ginger and serve.
---
Duncan Baird Publishers, 2011