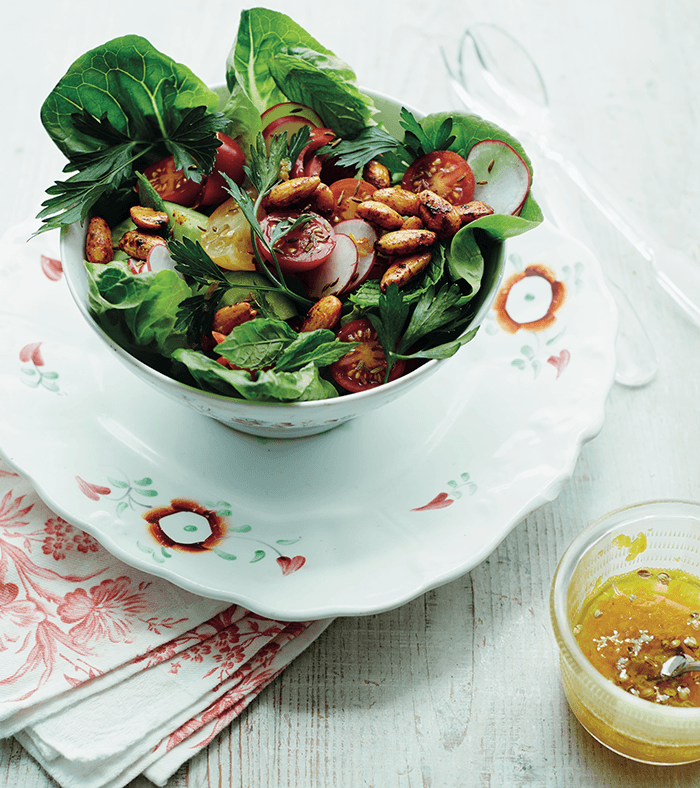 FATTOUSH WITH SPICED ALMONDS
This twist on the popular Lebanese salad is made with vibrant, crisp vegetables in an orangey pistachio oil dressing. Instead of the more usual addition of crisp toasted pitta bread, the salad is topped with smoked paprika roasted almonds. If you can't find pistachio oil, simply increase the quantity of olive oil.
1 tablespoon smoked hot paprika

60 g/½ cup blanched almonds

2 small Little Gem/Bibb lettuces, leaves separated

250 g/9 oz. vine-ripened cherry tomatoes, halved

1 small Lebanese cucumber, quartered lengthways and cut into bite-sized chunks

1 large romano or red (bell) pepper, seeded and cut into bite-sized chunks

8 radishes, sliced into rounds

5 tablespoons freshly chopped mint leaves

5 tablespoons freshly chopped parsley leaves

½ teaspoon cumin seeds, toasted

sea salt and freshly ground black pepper
ORANGE & PISTACHIO DRESSING
3 tablespoons extra virgin olive oil

3 tablespoons pistachio oil

Finely grated zest and freshly squeezed juice of 1 small orange

1 teaspoon coriander seeds, toasted and ground
1
Preheat the oven to 180°C (350°F) Gas 4.
2
Turn to coat the almonds in the paprika oil and shake onto a baking sheet. Spread the nuts out evenly and roast in the preheated oven for 15–20 minutes, turning once, until they start to turn golden. Leave to cool.
3
Meanwhile, make the orange and pistachio dressing. Put all the ingredients in a small jar, season, and shake until combined.
4
Arrange the Little Gem/Bibb lettuce leaves on a large serving platter and top with the tomatoes, cucumber, red (bell) pepper, radishes, mint and parsley.
5
Spoon the dressing over the salad and toss gently until combined. Sprinkle with cumin seeds and the almonds before serving.
PISTACHIO OIL
Pressed from pistachios, this nut oil has a wonderful vibrant green colour and intensely nutty flavour. Since nut oils can be quite strong in flavour, they should be used judiciously or tempered by mixing with a mild-tasting oil. They also work well with sweet ingredients, such as fruit or honey.