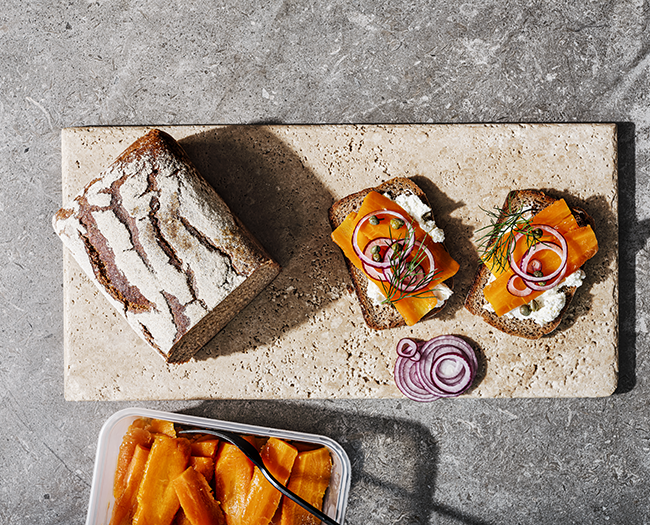 Salt-cured carrot lox on rye
Who would have thought that carrots baked in a salt crust and then marinated would bear a resemblance to smoked salmon? Now, liquid smoke may sound a bit 'Heston', but this dark smoky liquid is now sold in large supermarkets and online. This recipe may be a slight labour of love, but it is more than worth giving it a try; what's more, it's a great way to make use of new-season carrots. Try baking celeriac/celery root, beetroot/beets, turnips or swede in a salt crust, too. The method keeps the root veg moist and cooks them gently and evenly.
Ingredients
Serves 4
Preparation time: 15 minutes, plus 1–2 days marinating
Cooking time: 1 hour
4 carrots, unpeeled and scrubbed sea salt, to coat
2 tbsp extra virgin olive oil

1 tsp liquid smoke

1 tsp apple cider vinegar
sliced rye bread, light or dark depending on preference

cream cheese or non-dairy alternative

1 small red onion, thinly sliced into rounds

1 tbsp non-pareil capers, drained, rinsed and roughly chopped

small dill sprigs

freshly ground black pepper
1
Preheat the oven to 180°C/350°F/Gas 4.
2
Put a good layer of salt in a small ovenproof dish that is large enough to accommodate the carrots. Wash the carrots and, while still wet, lay them on the bed of salt, making sure they don't touch the bottom of the dish. Pour more salt over the carrots until they are completely submerged. Bake for 1 hour, or until the carrots are tender and the salt forms a hard crust. Remove from the oven, then leave for a minute or so until cool enough to handle. Lift out the carrots, crack open the crust and brush off any residual salt.
3
Using the blunt edge of a kitchen knife, carefully rub off the carrot skin. Cut each carrot in half crossways, then thinly slice into wide strips and place in a shallow dish. Mix together the ingredients for the marinade and pour it over the carrots, turning them until evenly coated. Cover and leave to marinate in the refrigerator for 1–2 days until they are soft and silky in texture. Turn them once or twice during marinating to stop them drying out.
4
To serve, lift the carrot lox out of the marinade; they're best served at room temperature. Spread a layer of cream cheese over the rye bread and top with a few slices of carrot and red onion. Sprinkle over a few capers and dill sprigs, then finish with a grinding of black pepper.
5
Scatter a little extra thyme over the tarts before serving with the relish.
Part-time Variation
Smoked salmon lox with caper and dill sauce
Smoked wild salmon or trout are, of course, obvious alternatives to the carrot. For an alternative topping try a Caper and Dill Sauce: finely chop 1 tbsp drained and rinsed non-pareil capers and mix with 3 tbsp mayonnaise, the juice of 1/2 lemon, 1 tbsp chopped dill and 1 tbsp water. Season with black pepper. Serve the salmon or trout on rye bread with a spoonful of the sauce and an extra squeeze of lemon juice.