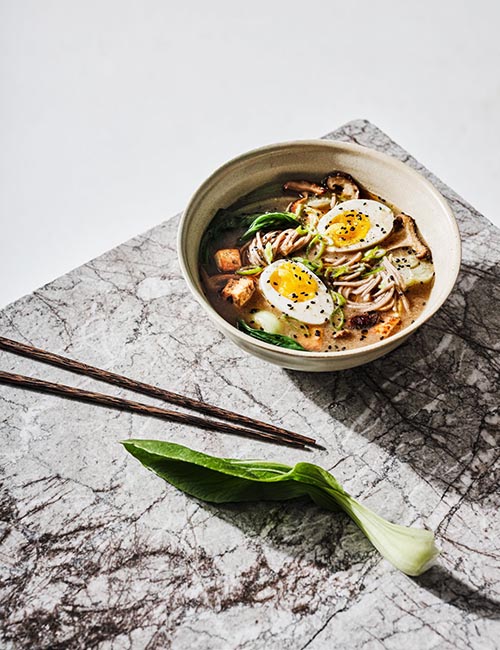 Shiitake, miso & smoked tofu ramen
Dried mushrooms are a true asset in the vegetarian kitchen – a handful goes a long way in the flavour stakes, and they also keep for months. I buy large bags of dried shiitake, and other mushrooms, from Asian supermarkets as they are much more reasonable than the small bags you find in supermarkets. They are great for adding flavour, texture and substance to broths, stocks, stir-fries and stews. White miso has a slightly more delicate, sweeter taste than the darker alternatives, such as brown rice or barley, but you could use the latter if more convenient.
Ingredients
Serves 4
Preparation time: 25 minutes
Cooking time: 20 minutes
55g/2oz dried shiitake mushrooms

2 banana shallots, peeled and roughly chopped

2 garlic cloves, peeled

5cm/2in piece fresh root ginger, peeled and roughly chopped

21/2 tbsp light soy sauce

3 tbsp white miso paste

3 spring onions, white and green parts separated, thinly sliced diagonally

1 tbsp sesame oil

225g/9oz smoked tofu, drained, patted dry and cut into bite-sized pieces

4 eggs

4 pak choi, halved or quartered, if large

250g/9oz soba noodles

black pepper

Black sesame seeds, to garnish
1
Pour 300m/101/2fl oz just-boiled water over the shiitake in a bowl and leave to soften for 20 minutes. Drain, reserving the soaking water. Squeeze out the mushrooms and thinly slice half of them.
2
Put the whole softened shiitake, the shallots, garlic, ginger and 3 tablespoons water in a mini food processor or blender and pulse to a smooth paste.
3
Heat the oil in a large saucepan over a medium-low heat and fry the paste for 5 minutes, stirring to prevent it sticking to the pan. Strain in the mushroom soaking liquid and 1l/35fl oz just-boiled water. Bring almost to the boil, then turn down the heat to low and stir in 2 tablespoons soy sauce and simmer for 5 minutes. Turn off the heat and using a hand-blender, blend the stock until smooth. Stir in the miso and white part of the spring onions, cover and set aside.
4
Heat 1 tablespoon sesame oil in in a large frying pan over a medium-high heat, add the tofu and fry for 5–7 minutes, until golden. Remove from the pan with a slotted spoon and keep warm in a low oven. Add the sliced shiitake to the pan, adding a splash more oil if needed, and fry for 5 minutes. Add the rest of the soy sauce and continue to cook until the mushrooms are crisp. Set aside.
5
Meanwhile, hard-boil the eggs for about 6 minutes or until the whites are set and the yolks remain runny. Drain and hold under cold running water briefly to cool slightly, then peel. Steam the pak choi for 3–5 minutes until tender, then cut in half.
6
To serve, reheat the broth over a low heat, taste and season with pepper and extra soy, if needed. Cook the noodles following the packet instructions, drain and divide between 4 large, shallow bowls. Spoon the broth over. Cut the eggs in half and place on top with the tofu, mushrooms and pak choi. Scatter over the green part of the spring onions and the sesame seeds.
Part-time Variation
Shiitake, miso & chicken ramen
Replace the smoked tofu with 2 chicken breasts, cut into thin strips. Cook in the same way as the tofu in step 4.